Consultant gynecologist and obstetrician Dr Amed Ismail for The Huffington Post UK:
Hundreds of women are taking legal action against the makers of vaginal mesh implants, which are often used to teat pelvic organ prolapse or incontinence.
According to a report by the BBC's Victoria Derbyshire programme, more than 800 women claim the treatment has caused them discomfort and in some cases, damaged their health.
The treatment is common in the UK, with more than 92,000 women receiving a vaginal mesh implant between April 2007 and March 2015 in England alone.
But what are vaginal mesh implants and, in light of the recent news, should women who currently have them be worried?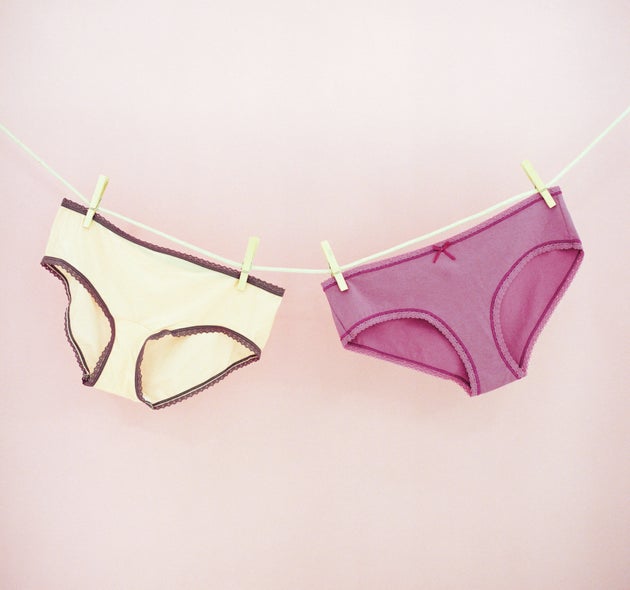 What is a vaginal mesh implant?
A vaginal mesh implant, sometimes referred to as a sling implant, is a treatment given to women who experience pelvic organ prolapse and incontinence.
According to the NHS, pelvic organ prolapse is the bulging of one or more of the pelvic organs into the vagina. These organs are the uterus, vagina, bowel and bladder.
Although pelvic organ prolapse isn't life-threatening, it can affect your quality of life by causing problems passing urine, leaking urine when you cough or sneeze, or difficulty having sex.
If other treatments – such as pelvic floor exercises – have been unsuccessful in treating symptoms, doctors may recommend a woman has a vaginal mesh implanted to support the vaginal wall and/or internal organs.
"A vaginal mesh is purely a synthetic net material used in the placement of a weak connective tissue or ligaments, suspending the vagina and uterus," consultant gynecologist and obstetrician Dr Amed Ismail, from Queen's Clinic, told The Huffington Post UK.
The mesh is implanted via a simple operation where the where the vagina is opened at the vaginal wall and the mesh is secured in place.
"This allows the angle between the urethra and the bladder to be a better shape to allow the woman to be continent rather than incontinent," Dr Ismail said.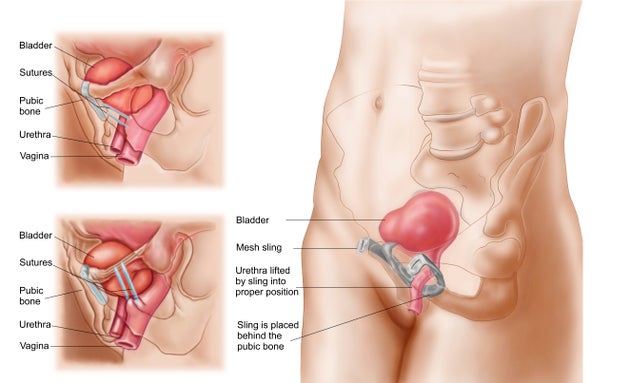 Who receives vaginal mesh implants?
According to Dr Ismail, the majority of women who receive the treatment are over the age of 50, as weak connective tissue or ligaments around the pelvic organs can often be restored in younger women through lifestyle changes and pelvic floor exercises.
"Usually it's for women who've had several children or, if they've only had one child: they're probably overweight, have had a vaginal tear or never did any exercise during pregnancy or after having a baby," he said.
The risk of pelvic floor prolapse and associated incontinence is also increased with being overweight, having a particularly difficult childbirth (such as long labour) and long-term coughing (for example, if you're a smoker).
What are the complications?
The Victoria Derbyshire programme spoke to women who claim they've experienced severe pain due to the mesh treatment, leaving them unable to walk, work or have sex.
According to Dr Ismail, such complications are usually caused by the mesh eroding, breaking down into smaller pieces which potentially move.
"The vagina area being stitched up is a weak point of the vaginal wall," he said.
"The mesh can find it's own way through this weak point and protrude outside the vagina."
He said women may become aware of erosion if they feel discomfort during sex or if their partner can feel the mesh during sex.
Women who experience erosion of vaginal mesh may need to have a second operation in order to have the mesh removed or fixed.
However, Dr Ismail stressed that erosion of vaginal mesh is rare, claiming just 10% of women who have the treatment experience it.
Should women be worried?
In a statement, the Medicines and Healthcare products Regulatory Agency (MHRA), said it is addressing concerns raised by patients in light of the BBC report, but it still supports the use of the treatment.
"We have undertaken a great deal of work to continuously assess findings of studies undertaken by the clinical community over many years, as well as considering the feedback from all sources in that time," it said, according to PA.
"What we have seen, and continue to see, is that evidence supports and the greater proportion of the clinical community and patients support the use of these devices in the UK for treatment of the distressing conditions of incontinence and organ prolapse in appropriate circumstances.
"We encourage anyone who suspects they have had a complication after having a mesh device implanted to discuss this with their clinician and report to us via the Yellow Card scheme regardless of how long ago the implant was inserted."
Dr Ismail reassured patients that the majority of women should not be worried "at all".
"If they are asymptomatic, just leave them [the mesh] alone," he said.
"If they are happy and are continent and are able to control urination, they've had a successful operation and that is fantastic news – 90% of people are like that.
"Anyone reading the news might think 90% of the women have the complication and 10% get better, but it's the other way around."
Anyone concerned after receiving a vaginal mesh implant should visit their GP or a healthcare professional.